Digital Trade Show: A New Approach for the Aviation Industry
Aviation Forum Generates New Market Momentum Online
In addition to heavily impacting business trends in numerous markets in 2020, the coronavirus also completely changed our internal workflows, production processes, the way we interact with customers, and our R&D networks. And this is why the renowned Aviation Forum also quickly found its way onto the Internet. Sales Aviation and Customer Support took part. Our Sales Manager Maren Mente offers her take on the online format and explains the trends and challenges facing the aviation industry for VINCORION Insights.
I am extremely passionate about my work in the aviation industry. Intelligent power solutions for maximum flight safety and environmental protection, efficient and robust systems and components – in these areas, we can draw on a wealth of expertise and are a partner to the two major aircraft manufacturers, among others. But the industry is changing, and not just since the emergence of COVID-19. Focal points include digitization (e.g. smart boarding), sustainability, green flight, and zero emissions. The Aviation Forum is always a great opportunity to obtain fresh ideas and network with our customers and those who want to become customers. And in 2020, it was actually going to be held here in Hamburg. In the end, it was held online.
Business Speed Dating and Ghosting
The organizer, IPM AG, used the virtual event platform Grip to set up a stage and digital trade show booths – including participant and speaker profiles, a digital trade show presence with company profiles, and a contact waiting room for inquiries. This entailed much more preparation in advance than is usually the case for a traditional trade show – we had to create and maintain a digital profile, scan profiles, request and set up contacts, create schedules, and coordinate with the team. Because unlike in the hallway, at the booth, or at an evening event during a normal trade show, the only way I can get in touch with the other participants and companies at the digital trade show is if they allow me to. Ghosting at the professional level – but in return, a quick and efficient way to network with interesting contacts and interested customers. And many changes of scenery with cool home offices and regular office views.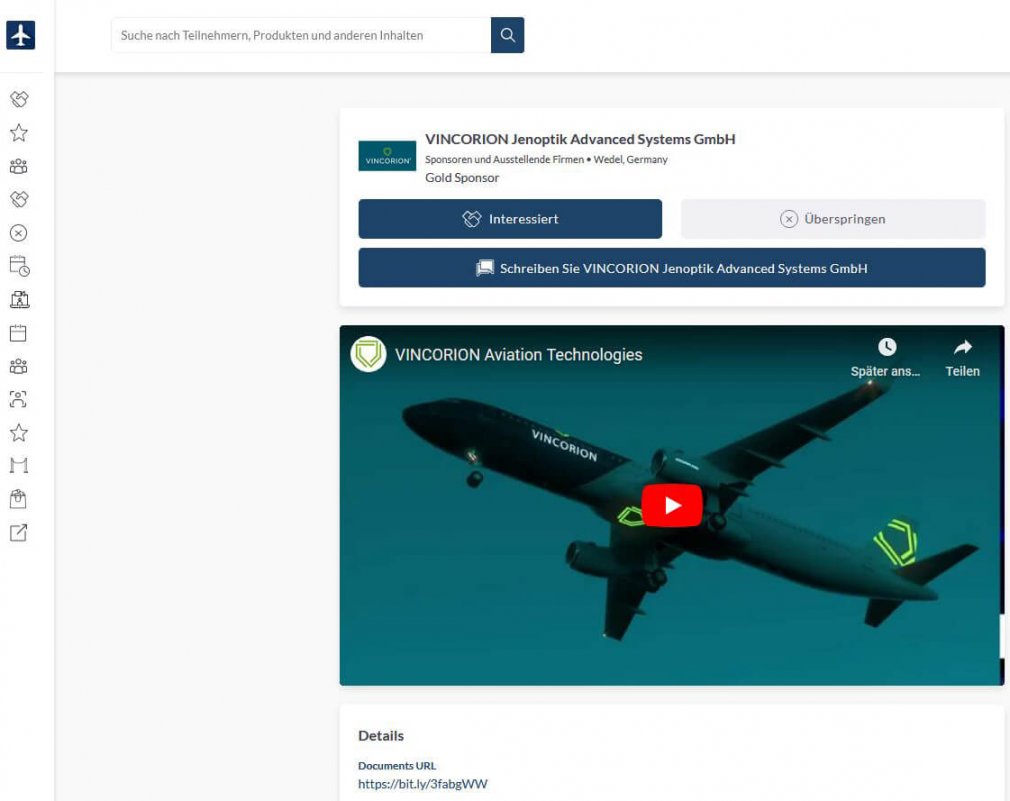 A Safe Feeling on Board
The various lectures and panel discussions, including the live chat feature, gave me new food for thought. The dominant topic was obviously the coronavirus. An entire industry is trying to figure out how to get off the ground and back into the air. One component is giving passengers a greater sense of safety and hygiene on board. Another idea, albeit not a new one: flying must also become more attractive in terms of sustainability. Here at VINCORION, we are also working on electric propulsion systems and the corresponding power systems. Space-saving and energy-efficient components such as heaters and icing controllers and floor panels with heated, cut-resistant surfaces form the initial basis for this.
My Conclusion
With respect to the content, my main takeaway was that one way for the industry to make it out of the crisis is to keep in mind that airplanes aren't a breeding ground for infection and that passengers not only need to feel comfortable, but also and above all, safe on board. The technological developments that I already mentioned are another way – sustainable flight with electric propulsion and power systems, alternative fuels, smaller aircraft, and low-maintenance fleets.
From an organizational perspective, the digital Aviation Forum and similar formats are good alternatives during the pandemic when we need to keep physical contact to a minimum and are the format of the future, especially for smaller conventions. The personal component and (persistent) chance encounters are, however, absolutely essential over the long term.
And incidentally, you can't just participate in a digital event format like this "in passing" while at the office. No, it's important to ensure that you are away from your desk and your daily to-dos and calls – by attending from home, from a rental office, or a special conference room, for example.