"No One Was Really Prepared for This Event"
Why it's time to usher in a new era in civil defense and emergency management as well
Entire villages under water, people without drinking water and electricity, destroyed livelihoods – the images of the catastrophic flooding in Germany's Ahr valley are still fresh in everyone's mind. Although it was far from the first disaster of this kind, it particularly underlined the importance of smooth operations and having the best emergency response equipment possible. But also the coronavirus pandemic or the influx of refugees in 2015 and today due to the war in Ukraine underline the importance of civil defense. David Templin, volunteer with Germany's Federal Agency for Technical Relief (abbreviated THW in German) and VINCORION employee, explained to us what emergency services personnel want and what they urgently need.
Germany is currently discussing the security and defense infrastructure in its own country. While this is certainly an important discussion to have, it only shows one side of the coin. This is because the list of the country's shortcomings is also long in civil defense and emergency management. When the Cold War ended, Germany drastically cut back on investments, reduced equipment to the bare minimum and, since the country's compulsory military service ended, also reduced the number of personnel. Recently, German Red Cross President Gerda Hasselfeldt stressed that it was time to "usher in a new era" not only in the defense sector, but also in civil protection – in other words, Germany needs to immediately rethink its current approach and ultimately implement measures to strengthen the sector. And David Templin agrees wholeheartedly.
No Electricity or Drinking Water
Whenever time permits (or doesn't, actually), the product manager is active with THW, volunteering to help train younger members as well as assisting on-site in disaster situations. David Templin has been on the scene during major fires, storm damage, and evacuations. He still remembers his first major deployment during the flooding in Bavaria in 2008. Even then, many elements of THW training were already in high demand. "But the scale of destruction and the size of the disaster area in the Ahr Valley in 2021 was so immense – no one was really prepared for this event," he says. Destroyed bridges, canals, and power lines left entire villages, districts, and streets without any infrastructure. "There was no lighting, no potable water supply, no means of pumping out sewage."
Scarce Resources, Enormous Demand
When David Templin arrived on the scene a week after the disaster, he began coordinating logistics activities. "In order to restore the power supply, all of the lines, distributors, and building connections had to be cleaned, repaired, and tested. This meant that in some cases, individual buildings had no electricity for days, weeks, or even months," he explains. As a temporary measure, the emergency services personnel set up power generators with light poles at central locations. Larger power consumers, e.g., sewage treatment plants, were provided with temporary power generation systems, which were set up, brought into operation, and subsequently maintained, in some cases over a period of weeks. In the first three weeks, more than 4,000 emergency personnel were deployed for over 70,000 hours. Emergency service was provided using 5,000 meters of power cable and over 300,000 liters of diesel fuel. And because this all had to happen incredibly quickly, it pushed the civil protection structures to their absolute limits.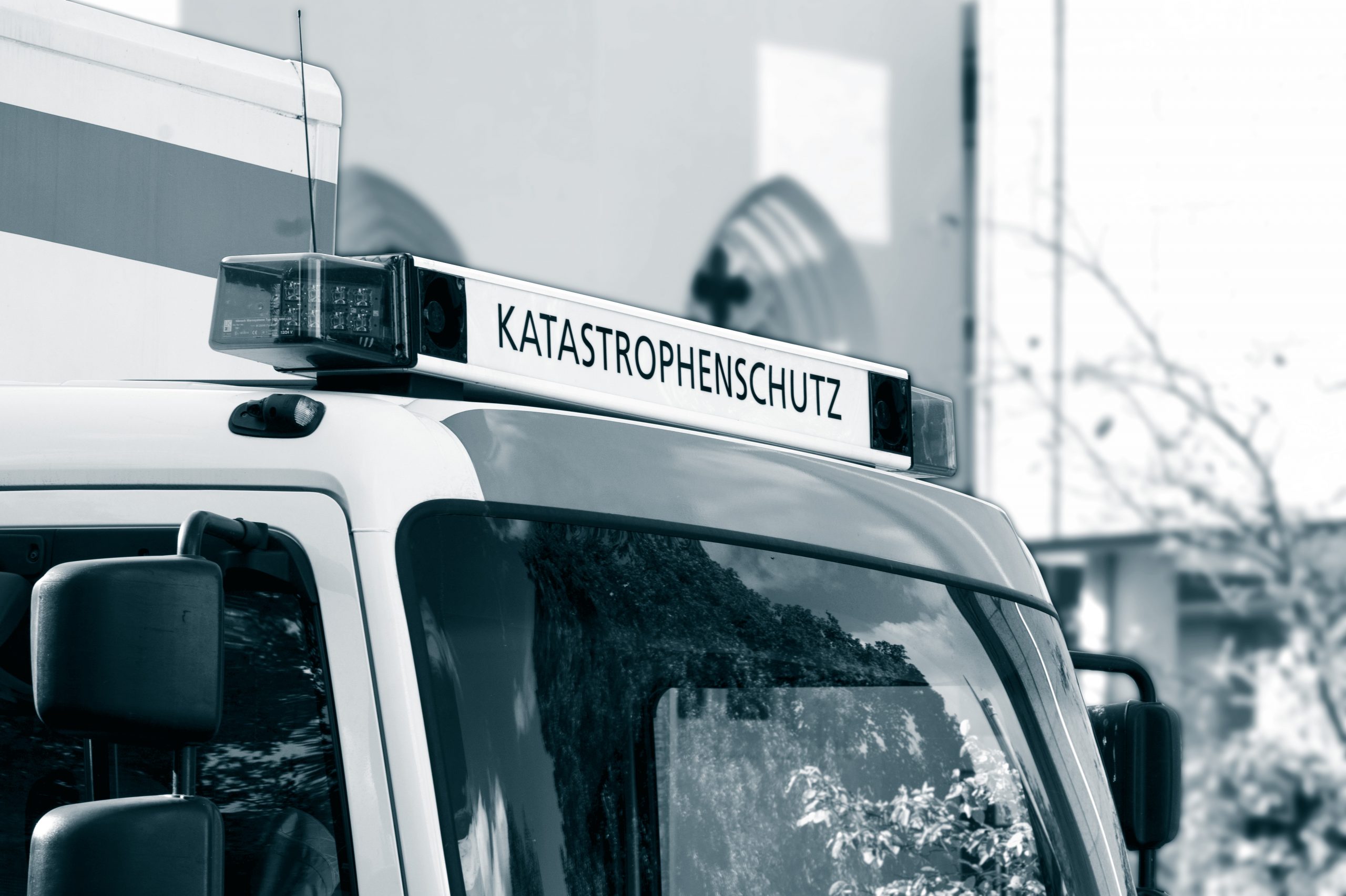 Not Prepared for Major Disasters
"The volunteer response teams are well trained and the kit that covers the different response scenarios is already well filled – but only for smaller operations and not for major disasters, however. There is still a lot of room for improvement, especially when it comes to protective gear or infrastructure such as digital communications and emergency power supplies," describes Templin. What he would like to see is a more pragmatic approach and less bureaucracy: "When it comes to both general equipment and urgent operations, the procurement paths are simply too long and too complicated. For example, to secure collapsed buildings or infrastructure, you need scaffolding timber. And you need it in the field and on short notice. But in theory, we're required to obtain three quotes instead of simply going directly to the nearest local provider. That, of course, needlessly wastes time and is simply impractical." The same applies to partially obsolete technology or highly sought-after "gold-plated" solutions, for example in mobile power supply. "If there a cutting-edge, functional solution is already available on the market, we should be able to fall back on it directly," says Templin. If all of the requirements are met in terms of infrastructure, equipment, and personnel, the German Armed Forces will be able to concentrate more on their core task – national defense. "While it's good that the military is pitching in, the fact that they have to at all is a clear indication of the gap in disaster control."
Assistance Is the Key
The way they deal with crisis situations, even without the perfect equipment, reveals just how good the many volunteer and full-time emergency personnel at THW are thanks to their training. In these situations, creativity and the ability to think ahead are sometimes required. Thanks to his work as a product manager, Templin has a good overview of the market and knows both the needs of users and the technical possibilities, for example when it comes to the power supply. "That helps me tremendously on both sides, of course. So my hobby has become my profession and vice versa." And yet, with these two responsibilities, he naturally has hardly any time for other things. "That's why I'm glad that my employer is so supportive of my volunteer work and stands behind me when the alarm rings and I'm called out on short notice or even when I'm out for a longer period of time, as was the case during the catastrophic flooding," says Templin. "And without my wife's support, it wouldn't be possible for me to volunteer like this, either." And when time permits, he actually does have another hobby: DIY projects around his own home.