Green Defense
MISSION BOOTPRINT
Security and Sustainability in Perfect Harmony
Water shortages, disastrous flooding, environmentally induced migration – climate change is one of the largest drivers of global and local conflicts. This makes climate change mitigation a central pillar of global security policy. The actions taken are summarized under the heading Green Military or Green Defense.
In this context, the importance of the defense sector itself reducing its own environmental impact is becoming all the more apparent. After all, in many instances, it is quite substantial – a study by Boston University, for example, calculated that in 2018, more than 200 million metric tons of carbon were emitted by the US military alone.
Sights Set on the Carbon "Bootprint"
The key challenge for the defense industry is finding a way to combine maximum platform performance and reliability requirements with the goal of reducing its carbon footprint. VINCORION is leading the charge to tackle this issue with a host of innovative solutions.
We're working hard to firmly enshrine a sustainability mindset throughout all areas of our business – from supply chains and low-emission manufacturing techniques to the design of efficient and resource-friendly power solutions for civilian and military use.
Patriot System
Fuel Consumption Reduced by up to 50% with a Hybrid Power Supply
Extremely reliable power systems "made in Germany" have been used for more than 30 years in the Patriot air defense system – these are extremely reliable, powerful, robust, and now also hybrid systems. As such, the latest power system for Patriot is also extremely energy-efficient and low-maintenance thanks to a high-performance storage system featuring supercapacitors.
Thanks to its storage unit and power electronics optimized for this purpose, the hybrid unit can supply peak loads and maximizes the optimization of the diesel engine.
The self-sufficient, adaptable, and hybrid power architecture also becomes a tactical advantage, cutting fuel consumption by up to half, halving downtime, and guaranteeing a fourfold increase in fail-safety. In addition, the power systems are designed to support the integration of self-sufficient fuel cell technology and other sustainable energy sources.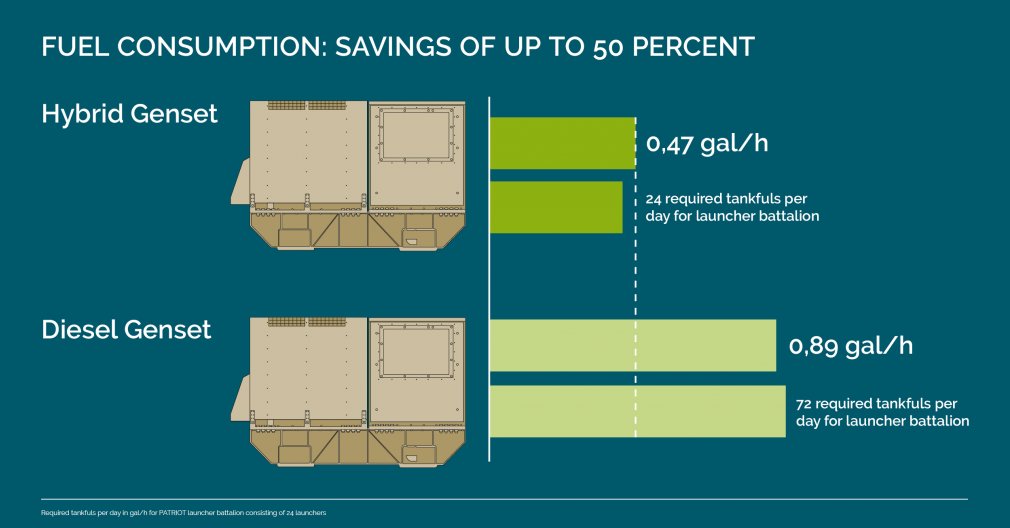 The Ad Store GmbH
Stage V Engines:
Reducing Emissions from Military Fuels in the Field as Well
The German Armed Forces are also increasingly focusing on the issue of sustainability. The toughest emission standards, state-of-the-art power storage, and the simple integration of sustainable energy sources such as photovoltaics are the key requirements when it comes to reliable power generation in the field. VINCORION's newly developed gensets with Stage V engines (PGM low emissionsV) guarantee low-emission operation with state-of-the-art AdBlue exhaust gas aftertreatment. And yet military fuel can also be used by means of an "emission downgrade." In this context, these cutting-edge power systems are optimized in such a way that retrofitting them in the field is quick and easy, both in terms of hardware and software.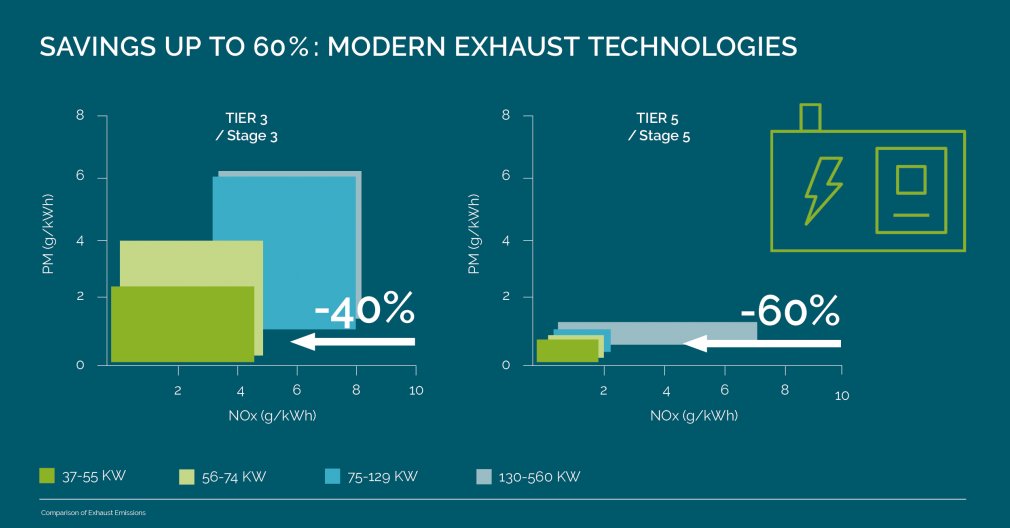 The Ad Store GmbH